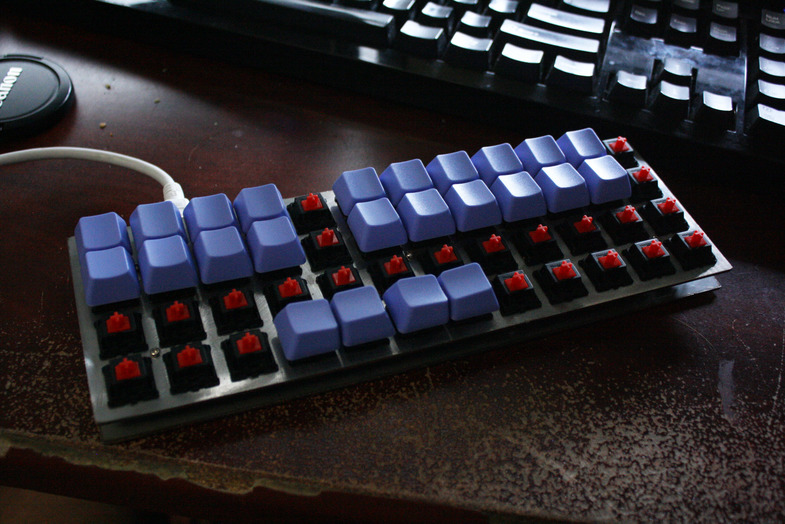 Check out this beautiful
DIY Plover Board built by Timothy Aveni
for less than $100!
Seriously impressive.
Speaking of DIY keyboard projects,
The Matias Keyboard Switch
Crowd Supply campaign is 176% funded and already shipping out keysets. Josh says he's hoping the
Stenosaurus
Crowd Supply campaign will go live in the next two or three months, which is tremendously exciting.
On a more discouraging note, our previous go-to low-cost n-key rollover keyboard, the
Sidewinder X4
, is now well and truly out of production, so prices for leftover stock are climbing inexorably upwards. This is really a shame. At its best, it cost around $45, but now you'll have to pay around $70 for a used one and $150 or more for a new one.
There's currently a
Massdrop for a $50 Noppoo Lolita Spyder 87
, but that won't last forever, and retail for the Spyder is around $80. I really hope that a new low-cost gaming keyboard with true nkro (not fake nkro like the disappointing $20 Sharkoon) comes around again soon. There's a surprisingly big difference between $50 and $100 when you're talking experimental entry-level steno. I'll always be grateful to Microsoft for releasing the Sidewinder right when I started the Plover Project back in 2010, and I know that all manufacturing efforts have a limited lifespan, but I sure hope something else comes up to take its place.